RESOURCES
Audio and artwork resources to help bring your vinyl creation to life - artwork templates, audio mastering guidance and more.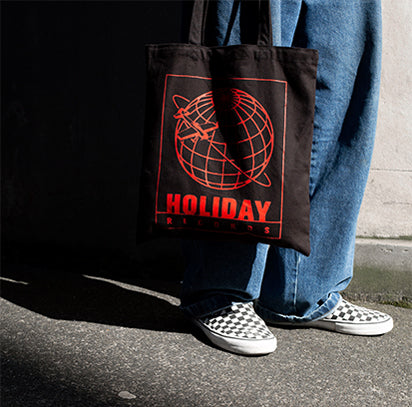 It seems releasing an album on vinyl is becoming essential for many artists these days. However, it isn't as easy as cutting directly from your digital audio files - vinyl is an analogue medium that requires a bit of extra care and attention.
All audio that Holiday Records receives must be mastered specifically for vinyl. Unlike digital, vinyl has some limitations that are inherent to the medium. Mastering your music for vinyl means preparing your audio with these limitations in mind, while maximising the incomparable sound qualities of vinyl. After all, that's why we're all here.
Holiday Records is proud to be producing some of the highest quality vinyl on the market using the best machinery, materials and practices. That said, it is important that the following factors are considered prior to submitting audio files to ensure we can guarantee the highest quality records are produced for your release. We always suggest using an experienced audio engineer for mastering your tracks specifically for vinyl. Please ask if you require recommendations of audio engineers nearby.
Audio Requirement Summary
Minimum 16 bit 44.1kHz .WAV or .AIFF files.
Maximum length of side: 24 minutes (for 33RPM)
Volume: -3dBu
File Format
To ensure the best quality vinyl and most efficient service, these files should follow these format considerations:
Minimum 16 bit 44.1kHz .WAV or .AIFF files.
We cannot accept compressed audio files such as MP3 or M4A.
File resolution should be the highest available, but should not be converted up to the highest resolution.
We ask for your tracks to be compiled into two seperate single audio files for each side of the record: A-side and B-side.
Standard spacing between tracks is two seconds. Please ensure the cue sheet is filled in correctly when submitting orders so we can identify the tracks are right where they need to be.
Audio Length and Track Placement
The length of your album sides is important when considering audio quality and volume. Basically, the shorter the side, the more space provided to cut louder and more dynamic sounds. Comparatively, the longer the sides of an album, the quieter the record will need to be.
Please consider the following suggestions:
| | Ideal | Maximum |
| --- | --- | --- |
| 12" 45 RPM | 11 | 13 |
| 12" 33 RPM | 17 | 22.5 |
| 12" 45 RPM (DJ Levels) | 8 | 9 |
| 12" 33 RPM (DJ Levels) | 12 | 15 |
| 7" 45 RPM | 3.5 | 4 |
| 7" 33 RPM | 5 | 6.5 |
If your album is longer than recommended (or close to it), we do not encourage having your most dynamically rich tracks at the end of the record (on either side) as the quality and fidelity may be jeopardised.
This is because as the audio information is cut closer to the centre hole, the grooves are forced closer together. Consequently, a lot more information can be held on the outer grooves of a record as the lacquer cutter has more room to work with.
That is not to say these tracks can't be cut at all! Just be strategic with the ordering of your tracks to ensure the best possible sounding record by placing the louder, energetic tunes at the start and your mellower tracks nearer the end.
Frequency and Volume
As said, physical limitations of vinyl must be taken into consideration when mastering your audio for vinyl. Frequencies and volume levels are two important audio factors when considering the limited space on the record surface. For example, louder sounds and lower frequencies result in deeper and wider grooves and thus requiring more room on a record. Similarly, higher frequencies translate into smaller, tighter grooves that could cause skipping.
High Frequencies
Lacquer cutting is capable of putting very high peak levels on the record, but only ideal playback systems and conditions will be able to play the sound back without distortion. Since we need the record to be playable on all types of equipment, it's necessary to limit the high frequency information. It's recommended to provide a vinyl premaster that already has a balance of high frequency suitable for vinyl production.
Low Frequencies
Excessive stereo information in the bass appears as vertical movement in the groove which can cause skipping, so it's sometimes necessary to remove the stereo component of the music as well as any out of phase information in the very low frequency range. Again, we recommended to provide a vinyl premaster that already has low frequency level and stereo content that is suitable for vinyl production.
Volume
The ideal volume level to supply your audio is -3dBu when the running times of each side do not exceed the recommendations above. If you have that one additional killer track that you have squeezed onto the album (and exceeded our length recommendations), the volume of the record will need to be reduced to make room for its grooves to be cut. But be warned, this may impact the overall quality of the record.
Holiday Records believes in vinyl
We will always do the absolute most to make your recording sound its absolute best on this beautiful medium. To help us achieve this, please consider and adhere to all of the recommendations above to ensure audio has been properly mastered and supplied to our ideal specifications.
We look forward to receiving and listening to your tunes.
Please ensure all artwork is submitted using one of Holiday Records templates below. Please do not change the dimensions or colour profiles in any template. If a template doesn't exist, or you are looking for a trusted graphic designer to help with your creation, please contact us.
Artwork should be saved as a CMYK 300–600 DPI PDF file with all template guides and labels not visible. All fonts should be converted to shapes. Zip compression of PDF files is acceptable. All artwork must contain bleed as per the template.