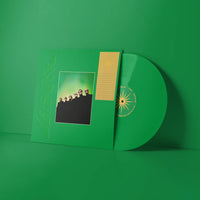 Leisurevision, the 4th studio album from New Zealand's LEISURE, out September 29. Available on deluxe 180gram green vinyl, featuring a pull out poster and set of LEISURE stickers.
Encapsulated by the colour green - symbolic of growth, renewal, and rebirth - Leisurevision sees the world through that lens, navigating the human experience, and all the hope, joy, chaos and euphoria it entails.

Pressed in New Zealand by Holiday Records.
TRACK LIST:

Always
Still Rolling
Flame
Back In Love
All The Goodtimes Never Die
Last Dance
Rescue Me
Above Me
Too Much
Level
Summer Season
Mellow